57 Reasons To Stay At Ocean Creek Resort
---
With 57 acres of oceanfront, vacation paradise bliss, it is undeniable that Ocean Creek Resort is a premier destination on the east coast. Here are 57 reasons that Ocean Creek Resort is the best place at the beach!
Here are 57 reasons that Ocean Creek Resort is the best place at the beach:
1. Ideal location on the beach
2. Across the street from Barefoot Landing
3. Practically across the street from Duplin Winery
4. About half a mile from House of Blues
5. Lush, green, spacious property
6. A plethora of room, suite and villa choices
7. A perfect place for families
8. Impressive amenities to keep everyone happy with minimal driving for you
9. On-site breakfast buffet options at The Four Seasons Restaurant
10. Breakfast packages available at discounted price
11. Oceanfront lunch and dinner options at the Beach Club Bar and Grill
12. Themed cookouts at the Beach Club Bar and Grill
13. Seasonal live entertainment
14. On-site sports including volleyball, tennis and golf putting
15. Tennis lessons offered
16. Summer time children's activities
17. Children's playground
18. Year-round temperate weather
19. 24-hour gated security
20. Biking and walking paths
21. Indoor pools for year-round splash-tastic fun
22. Outdoor pools with oceanfront views to catch a splash without the sand
23. Whirlpools to melt away tight and sore muscles
24. Sunset views; Instagram will thank you.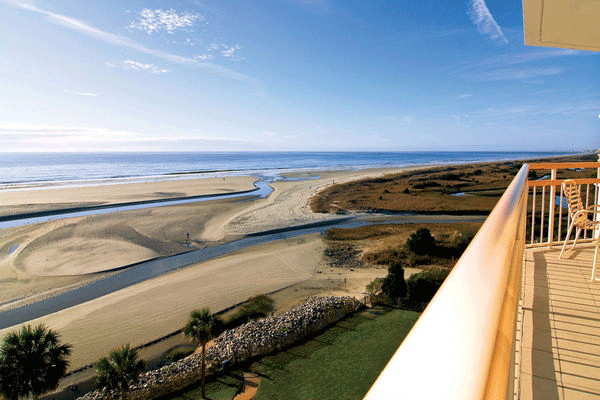 25. Units with full kitchens save you money and offer a convenient place for leftovers.
26. Year-round on-site dining for guests
27. Free Wi-Fi…enough said
28. Easily accessible from Highway 17
29. Business Center for those whose work follow them
30. Fax & Copy Machine
31. Vending machines available throughout resort
32. Free Parking
33. Golf Department & Concierge
34. Entertainment Desk
35. Daily Housekeeping in all units to clean up so you don't have to
36. Linens & Towels free for guests
37. Pack and Play (upon request, based on availability)
38. 24-Hour Front Desk
39. RV parking for far away travelers
40. Guest laundry, so don't worry about running out of clothes
41. Summer Tram Service throughout the property
42. Fitness room means no excuses for those on a workout routine
43. Creekside Conference Center for meetings, private dining and more
44. Year-round discounts and deals
45. Golf packages available
46. Beloved as a wedding venue
47. 1, 2 and 3 bedroom villas and suites ensure you find a place that suites you best
48. Villas allow for maximum privacy
49. VMB card allows for discounts and deals at restaurants, attractions and entertainment
50. Surrounded by all categories of restaurants
51. Friendly staff creates high morale and a calming atmosphere
52. Wildlife is frequently spotted in the dunes and marsh on-site
53. Loved by snowbirds
54. Secluded and quieter beach than other areas along the Grand Strand
55. Individually owned condos create a unique home-like feel throughout the units
56. The natural creek is a guest favorite
57. Long-term winter rentals available
---
Related Entries
Father's Day 2017 in Myrtle Beach
Read more
What's Free In North Myrtle Beach?
Read more
Immaculate Amenities at Ocean Creek Resort
Read more